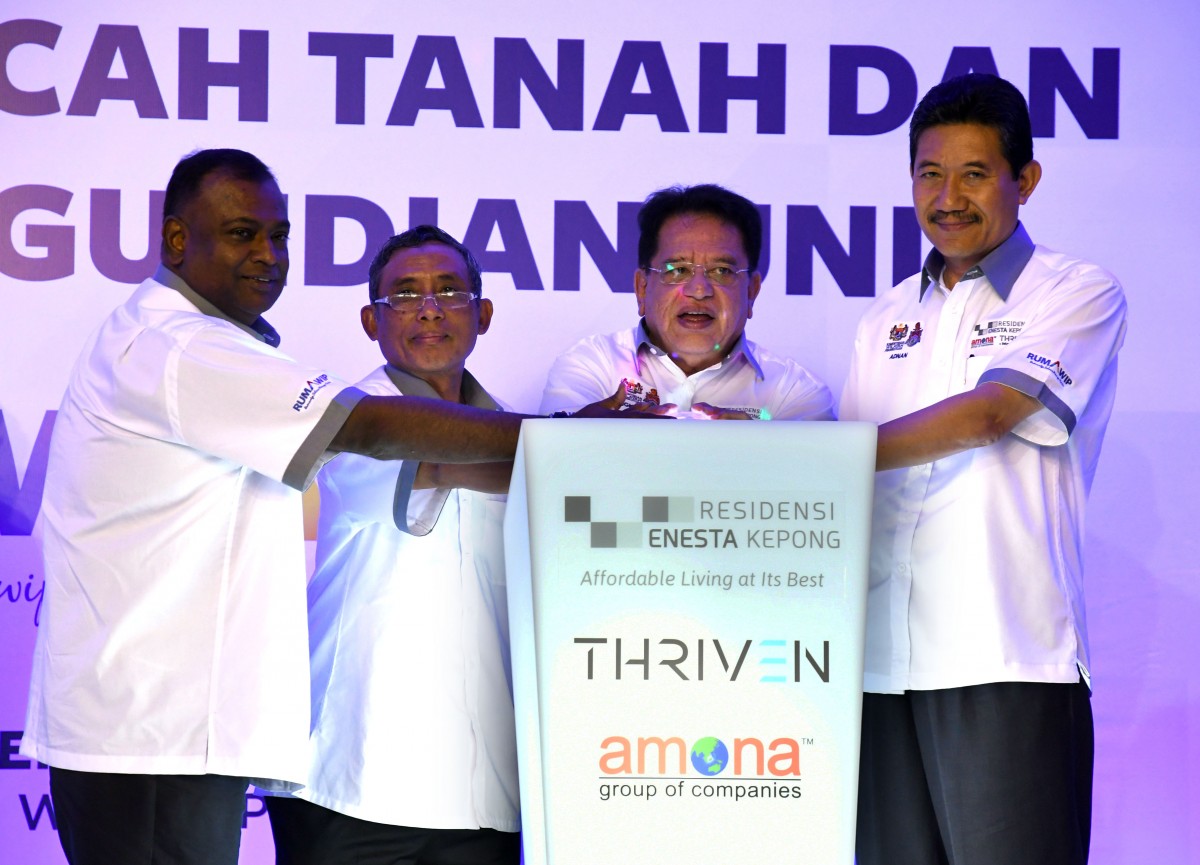 Ministry has achieved 70% of RUMAWIP target
KUALA LUMPUR (May 16): Some 70% of the 80,000 units of Rumah Mampu Milik Wilayah Persekutuan, or RUMAWIP, targeted to be built in the Federal Territories (FT) have been or are being developed as of May 2017.
According to FT Minister Datuk Seri Tengku Adnan Tengku Mansor, 70% or 55,694 units of the RUMAWIP affordable homes have been handed over, or are under construction or have obtained development order (DO).
The scheme was introduced in 2013.
"We are working with other agencies under the ministry to speed up projects that are still under construction or have obtained their DOs so that construction can be quicker and more units can be handed over to homebuyers as soon as possible," he said during the groundbreaking ceremony and balloting session for Residensi Enesta Kepong homebuyers this morning.
Residensi Enesta Kepong is a RUMAWIP project jointly developed by Thriven Global Bhd and Amona Group. It comprises 254 units with unit built-up size of 803 sq ft. Each three-bedroom unit is priced at about RM300,000 and will be housed within a single 42-storey block.
"The best part of the project is that the developer is offering condominium-standard facilities such as swimming pool, multipurpose court, children's playground, gymnasium and other facilities.
"The project is located strategically with amenities nearby such as schools, shopping complexes, banks and health clinics. It is very suitable for young professionals or young families," said Tengku Adnan.
Upon its completion in May 2020, Residensi Enesta Kepong will be accessible via Jalan Kuching, Jalan Ipoh, Jalan Kepong, Duta-Ulu Kelang Expressway (DUKE) and the Middle Ring Road 2. It is also located opposite the proposed Mass Rapid Transit Line 2's Jinjang Station that will be completed in 2022.
Half of the units in this project have been allocated to bumiputera and Malaysian Indian homebuyers.
"If these units are left unsold, we will then have to put them up for sale for Chinese buyers. So I hope that more bumiputera and Indian homebuyers will take part and register for this project," he said. Buyers only need to pay RM5,000 as deposit during the signing of the Sale and Purchase Agreement while the remaining RM25,000 can be paid over a 24-month period without interest.
On the Ministry's and Kuala Lumour City Hall's transit home project known as Council Homes in Sungai Udang, Tengku Adnan said the response has been overhelming. The Council Homes in Sungai Udang enables eligible individuals to rent a unit for only RM800, whereby RM500 will be for rental and RM300 is forced savings.
"They will be able to reside in the unit for five years and then the forced savings will be returned to them. We will then arrange for them to purchase a unit of RUMAWIP," he explained.
More Council Homes will be built in Sungai Besi and Lembah Pantai. The rental for the two-bedroom units will be priced about RM600, of which RM300 will be forced savings," he said, adding that such homes may be built in Wangsa Maju and Bandar Tun Razak as well.
On the gazetting of the KL City Draft Plan 2020, Tengku Adnan confirmed that the Ministry is looking to gazette the plan selectively.
"We are looking at some areas and some precincts that I will allow it to be gazetted, especially green and recreational areas. We are looking at the needs of the population," he said.
Source: https://www.theedgeproperty.com.my/tags/residensi-enesta-kepong