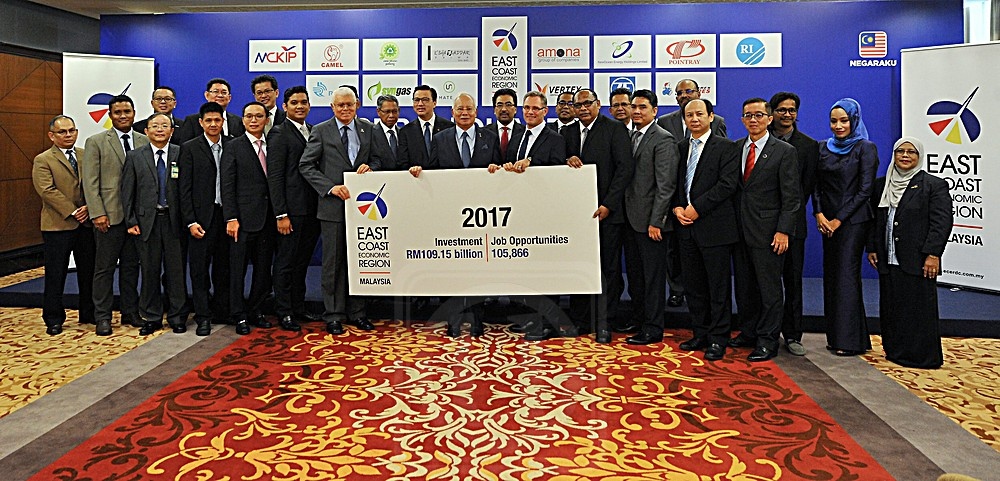 ECER nears RM110bil target
KUALA LUMPUR: The East Coast Economic Region (ECER) has signed deals in key sectors worth RM9.9bil, bringing it closer to achieving its targeted RM110bil in investments by 2020.
Prime Minister Datuk Seri Najib Tun Razak witnessed the exchange of documents between the ECER Development Council and 14 domestic and foreign investors, including six bumiputra companies, yesterday.
Investments in key sectors such as manufacturing, tourism, bio-­economy and real estate are expected to create additional business opportunities and over 4,000 jobs.
ECER Development Council chief executive officer Datuk Seri Jeba­singam Issace John said this brought the total committed private investments since 2008 to RM109.15bil.
"Over the years, we have built a dynamic ecosystem in the region, where each investment project creates immense spillover benefits in the economic value chain.
"Domestic direct investments form the core of total investments in the ECER, contributing some 52%.
"A large portion of these domestic investors are from small and medium enterprises, which are the backbone of the economy, especially in rural areas," he said in a statement.
John said ECER's growth had impacted the people positively with the creation of more than 140,000 jobs and 26,000 business opportunities over the past 10 years.
He observed the potential for more investments in ECER was also driven by its strong pool of local talent.
"The council's human capital development programmes cater to the rising demand for skilled workers today and in the future.
"As of June this year, more than 106,210 households or 10% of ECER's population have benefited from the programmes," he said, adding that 97% of the participants were from the B40 community.
ECER, which comprises Kelantan, Terengganu, Pahang and Mersing in Johor, covers 66,000sq km or 51% of Peninsular Malaysia and is home to some 4.3 million people.
Economic growth is driven by five key economic clusters – ­tourism; oil, gas and petrochemicals; manufacturing; agribusiness; and human capital and entrepreneurship development.
Source: http://www.thestar.com.my/news/nation/2017/08/08/ecer-nears-rm110bil-target-key-sectors-draw-rm10bil-already-as-others-expected-to-rise/