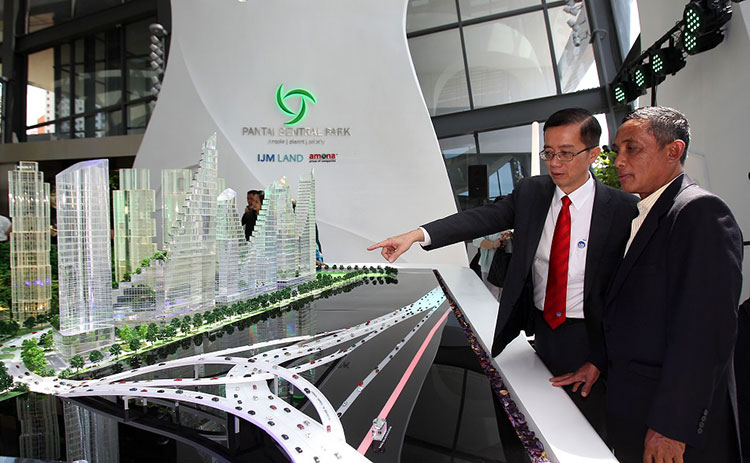 IJM Land targets eight launches worth RM1 bil in 2H2016
KUALA LUMPUR (July 21): IJM Land Bhd plans to launch seven to eight projects with a cumulative gross development value (GDV) of almost RM1 billion in the second half of this year (2H2016), said managing director Edward Chong.
"These projects will be new phases of existing township developments nationwide, including Penang, Klang Valley, Seremban and Johor," he told reporters after the official opening of the IJM Land Centre of Excellence (ICE) at Pantai Sentral Park (PSP), Bangsar South.
IJM Land Bhd central region senior general manager Hoo Kim See said the selling prices of the upcoming projects range from RM300,000 to RM2 million, with various products to cater for different needs — from first time homebuyers to upgraders.
The new projects include the Waterside Residence in Penang, new phases in Bandar Rimbayu, Danau Perintis affordable apartments in Shah Alam 2, new phases in Seremban 2 and new phases of Austin Duta in Johor.
Apart from these projects, IJM Land is also working on the Parcel 13 development in PSP that will be unveiled next year.
Chong said Parcel 13, which has a GDV of about RM500 million, comprises a 30-storey office tower which will house the future IJM headquarters and retail components as well as a 36-storey serviced apartment with built-ups ranging from 600 sq ft to 1,000 sq ft.
"We are in the midst of fine-tuning the design and work out the suitable space requirements for different divisions of the group. The construction period will take about three to four years to complete," he explained.
IJM Land, the property development arm of IJM Corp Bhd, is jointly developing the 58-acre PSP which has a GDV of RM2.5 billion with land owner Amona Development Sdn Bhd.
The leasehold development is divided into 13 phases, out of which seven will be residential and six commercial. ICE Gallery is part of PSP.
Chong said the uniquely-designed ICE Gallery will be the highlight of PSP and an ideal place for various functions.
"The building cost of ICE Gallery is RM30 million, this gallery will be the venue for our corporate events as well as a show gallery for Klang Valley projects and our Royal Mint Gardens project in the UK for interested buyers," he added.
On the progress of previous launches, Hoo said IJM Land has launched the first two residential phases – Inwood Residences and Secoya Residences – in 2014 and 2015 respectively, and they are slated to be completed by 2018.
Currently, the 38-storey Inwood Residences has achieved a take-up rate of 80% and construction has reached level 17. There are 211 units of condos, with sizes ranging from 1,125 sq ft to 1,965 sq ft.
Meanwhile, half of the 243 units at Secoya Residences have been taken up. The units in the 41-storey development range between 1,050 sq ft and 1,670 sq ft.
Source: http://www.theedgeproperty.com.my/content/808290/ijm-land-targets-eight-launches-worth-rm1-bil-2h2016